posted on October 5th, 2012 by stacieh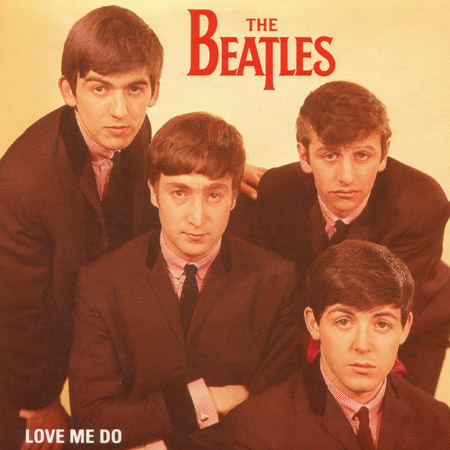 50 years ago today in 1962, The Beatles' very first single, "Love Me Do," was released in the U.K.
The soulful and bluesy tune was penned by Paul McCartney (with John Lennon later contributing the eight bar middle section) in 1958 when he was just 16. It wasn't always certain that "Love Me Do" would be the groups first single, however. Producer George Martin had initially planned to have the boys record a tune called "How Do You Do It?" but they insisted on using their own material. Martin was able to sway the boys decision on one thing, though, and that was which song would be released as their first single. The boys thought "P.S. I Love You" would make a stronger single and nominated it as their choice, but Martin held firm to his selection of "Love Me Do" and so it was. The song only reached 17 on the British pop charts but marked the beginning of what would become Beatlemania and the starting point of the a new movement of music that changed a generation.
A few months later, The Beatles returned to Abbey Road to record a song John Lennon had written called "Please Please Me." After laying down the track, Martin congratulated the boys saying "You've just made your first number-one hit." He was right. And the rest is history.
Stream VSQ's string rendition of "Love Me Do" below:

Check out both VSQ tributes to The Beatles:
Available at iTunes and Amazon