In both his production work and his solo releases, self-described "non-musician" Brian Eno has had an incalcuable influence on the recording and production of modern rock/pop music. While his solo work is incredibly varied - running the gamut of glam rock to film soundtracks to New Age-influencing ambient electronics - he is perhaps most well known for his production work, from his more experimental 70s Talking Heads work to his more recent collaborations with mainstream artists Paul Simon and Coldplay. With a new solo record on the horizon (Small Craft On The Milk Sea, seeing release in November), now is as good a time as any to look back on his celebrated production career and pick out his very best works.
Talking Heads - Remain In Light
The obvious forerunner here, the Talking Heads' 1980 masterpiece is one of Eno's most enduring productions. An intoxicating hybrid of Afrobeat polyrhythms, electronics, and the Heads' increasingly cerebral pop melodicism, Eno crafted a strange yet immediately accesible sonic landscape that remains his most distinctive achievement.
U2 - The Joshua Tree
Co-produced with Daniel Laonis, The Joshua Tree is easily Eno's most commercially popular production. Marrying U2's soul-searching anthems with Eno's gorgeous electronic flourishes was a major coup for both, artistically and commercially; the record single-handedly turned U2 into rock superstars and launched Eno's mainstream career.
Devo - Q: Are We Not Men? A: We Are Devo!
Of Eno's leanest and least obtrustive production jobs, Devo's debut record remains a high water mark for both parties. While Eno's trademark layered electronics are in short supply here, he allows the group's nervy deconstructionist pop songs to build and seethe, making for an exceptionally tense and memorable record.
David Byrne and Brian Eno - My Life In The Bush Of Ghosts
A collection of melodic, funky instrumentals interwoven with a varied collection of vocal samples - from radio show hosts to preachers - Bush of Ghosts was an utterly original release in 1981. While sampling had been done before, Eno's idea to use said samples as "lead vocals" was new, influencing hip hop to modern dance pop and beyond.
David Bowie - Low
Although not technically produced by Eno (due credit must be paid to Tony Visconti and Bowie himself), his presence on Low is crucial and unmistakable. Pushing Bowie's songwriting to bizarre new heights while offering the foreboding instrumental "Warszawa," Eno and Bowie reveal a window into the haunting future of rock 'n roll.
Brian Eno - Another Green World
Considered by many to be Eno's finest solo release, Another Green World combines his underrated sense of pop melodicism with his increasing interests in ambience and expansive electronics. Foreboding, lovely tracks like "Becalmed" and "Zawinul" directly foreshadow the work Eno would be making for the next quarter century.
Paul Simon - Surprise
The new millenium sparked some of Eno's most mainstream production work yet, culminating with his, well, surprising collaboration with Paul Simon. As unusual as it might sound on paper, Eno's warm arrangements fit with Simon's songwriting like a glove, resulting in one of his most inviting works.
Brian Eno and Daniel Lanois - Apollo (Atmospheres And Soundtracks)
Eno's ambient releases explore a wide variety of moods and textures, but Apollo (Atmospheres And Soundtracks) is perhaps his most distinctive; a collection of moody atmospherics combined with Laonis's warm guitar tones, it gives the listener the distinct feeling of floating in space, making for a quintessential late-night record.
Ultravox - Ultravox!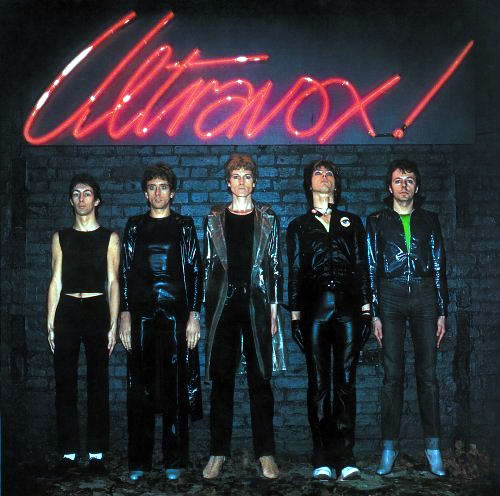 Eno's pioneering work in the mid-70s can't be understated; he was almost single-handedly responsible for pushing synth-pop and New Wave into the forefront of popular culture. Ultravox's debut record makes this clear, offering a hard-hitting early glimpse into the development of an exciting new genre.
David Byrne and Brian Eno - Everything That Happens Will Happen Today
Eno's second collaboration with David Byrne is markedly different effort than their first, forgoing the experimental route for a collection of sweet, homespun melodies. Marrying gospel with deep electronics and pushing the strongest vocals of Byrne's career into the forefront, it is perhaps Eno's most accessible and enjoyable album.