On 4/5, a History of the 45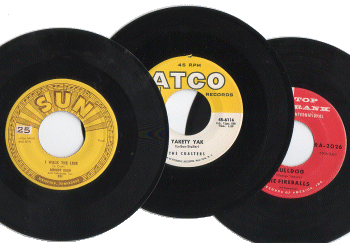 The 45 rpm record was born more than sixty years ago, and for years this miniature vinyl format was the favorite method of consumption for music fans. Although 45s became obsolete with the invention of the cassette tape, compact disc and mp3, the 45 is experiencing a renaissance, with artists including the White Stripes and Jack Johnson releasing singles on this traditional format. In honor of today's date, 4/5, we honor the 45 with a compact history of this compact format.
1948:
Columbia Records
tosses a game changer into the music business by demonstrating the ''long-playing'' (LP) microgroove phonograph record. A battle of speeds develops between the traditional 78-rpm record, the new 33 1/3- rpm Columbia disc, and RCA Victor's 45-rpm version. The 45 can hold about five minutes of music on each side.
1949:
Perry Como's "A, You're Adorable" is the first 45 rpm record to hit the Billboard charts.
Late 1950s:
The 45 rpm record's glory years begin with the onset of rock and roll. The new 7 inch format is favored by teens, and sales of singles in the UK overtake 78s in 1958 as rock and roll creates a boom in record sales. The massive success of acts including Elvis and The Beatles make this period the golden era of the 45.
Early 1960s:
The 7" becomes popular in jukeboxes because they take up less space than the standard 78rpm. Thus, more songs can fit in the jukebox.
Late 1960s:
Although sales of popular music grow during the 50s, 60s and 70s, buyers gradually transfer their purchases to the 12" LP. By the end of the 1960s, sales of the 45 begin declining.
Late 1980s:
While the single format all but disappeared from mainstream distribution, famed Seattle indie label Sub Pop continued selling the format via mail order as part of their "Singles Club."  From November 1988 through December 1993, Sub Pop put out 45 rpm records from some little-known bands at the time - Nirvana, Sonic Youth & The Flaming Lips included.
2007:
iPod cases are made from recycled 45 rpm records. For $45, you can choose your favorite record from a page of used 45s and have your case custom made from this selection. The company making these cases describes them as a way of using "old media" to protect "new media."
2011: As everything old is new again, vinyl continues to experience a worldwide renaissance, especially among young people.  Indie bands begin to release singles on 45 rpm records; although they are now commonly referred to as 7"s.
Be sure to check out:
The String Quartet Tribute to The White Stripes
Available now at iTunes and Amazon
String Quartet Tribute to Nirvana
Available now at iTunes and Amazon
String Quartet Tribute to Sonic Youth
Available now at iTunes and Amazon
String Quartet Tribute to The Flaming Lips
Available iTunes and Amazon
Bonnaroo
Spring and summer mean music festivals, and music festivals mean smorgasbords of music from all time favorite acts and up-and-comers alike. The summer 2011 festival season is rife with coast to coa...
Read more
baseball
The 111th major league baseball season began last Thursday. In belated honor of Opening Day and all that it means in terms of sunny afternoons at the ballpark, national hot dog consumption, and sin...
Read more