Slash To Release Solo Album in April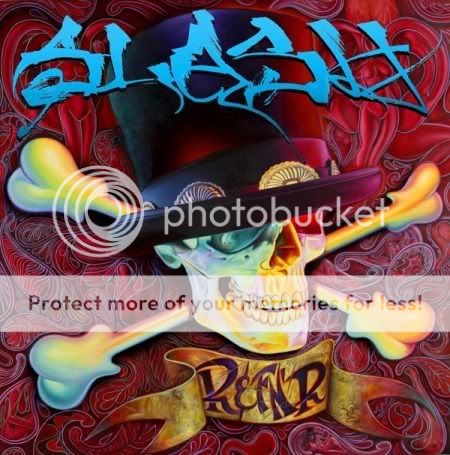 U.K. metal magazine
Metal Hammer
posted
a video
that features ex-Guns and Roses legend Slash talking about his new solo album that is scheduled to appear sometime in April in the U.S. The album features a ton of guests, including, Dave Grohl, Iggy Pop, Kid Rock, Lemmy Kilmister, Adam Levine of MAROON 5, Ian Astbury, Fergie Duff McKagan, M. Shadows of AVENGED SEVENFOLD, Chris Cornell, Myles Kennedy, Rocco DeLuca, Ozzy Osbourne, and Andrew Stockdale of WOLFMOTHER. Eric Valentine, who's done work for the All American Rejects and Queens of the Stone Age, produced the album. Filling out the band's rhythm section were bassist Chris Chaney (JANE'S ADDICTION) and drummer Josh Freese (NINE INCH NAILS). Slash says in the video, ""The idea was really simple in the beginning. These are all artists I wanted to work with — that I thought it would be amazing to do something creative and collaborative. And I was so impressed with what everyone brought to the table. They were all so committed to doing a good job. And we had a lot of fun making these songs."
The track listing (guest vocalists in parenthesis):
01. Ghost (Ian Astbury, feat. Izzy Stradlin) (3:34) 02. Crucify The Dead (Ozzy Osbourne) (4:04) 03. Beautiful Dangerous (Fergie) (4:35) 04. Promise (Chris Cornell) (4:41) 05. By The Sword (Andrew Stockdale) (4:50) 06. Gotten (Adam Levine) (5:05) 07. Doctor Alibi (Lemmy) (3:07) 08. Watch This Dave (Dave Grohl, Duff McKagan) (3:46) 09. I Hold On (Kid Rock) (4:10) 10. Nothing To Say (M. Shadows) (5:27) 11. Starlight (Myles Kennedy) (5:35) 12. Saint Is A Sinner Too (Rocco De Luca) (3:28) 13. We're All Gonna Die (Iggy Pop) (4:30)
Bonus tracks:
14. Baby Can't Drive (Alice Cooper, Nicole Scherzinger) 15. Paradise City (Fergie, Cypress Hill)
News
Since Nine Inch Nails recently stopped touring for the foreseeable future, they've decided to put up a majority of their touring gear on Ebay for fans to purchase and use what they no longer need...
Read more