Top 10 Bands That Should Reunite
Reunions are all the rage in the last few years, and bands are coming out of seemingly nowhere to take any high paying offers to do one-off shows or entire tours. Any band that has had a mild hit has pretty much reunited, unless a member has died. Luckily, there are still many great bands that have resisted the color of money to reunite, but here's to hoping they still see the light.
10. The Fugees
Who doesn't remember watching the video for "Killing Me Softly"? These guys did have a way with words, and Lauryn Hill is Roberta Flack's long lost sister.
9. Q AND NOT U
A great DC band that retreated once they began getting a bit of recognition. Both guys were amazing multi-instrumentalists that inspired a lot of bands today.
8. The Kinks
Will the Davies brothers ever reconcile and do a reunion? They both say it's very bloody unlikely.
7. Fugazi
Another hugely influential DC band that has been on an "extended hiatus" for quite some time now. I think after 8 years we can safely say they are no more, but what a reunion that'd be.
6. The Smiths
The king of broody music, Morrissey, wouldn't be caught dead on stage with Johnny Marr and the rest of the Smiths, not for millions of dollars. All the pre-emo children will rejoice if this ever happens, so keep that mascara handy.
5. Talk Talk
Most people remember this band for their hit "It's My Life" that No Doubt covered many years later. The fact is, these guys basically started the post-rock movement and did some amazing things when everyone was still stuck listening to INXS.
4. At the Drive In
If you've ever caught video of an old ATDI show, you've seen how dangerous it was to be a spectator. There is no band that even touched these guys in ingenuity and energy. This reunion could happen someday, but Jim Ward and the Mars Volta guys will need to play nice.
3. Godspeed You! Black Emperor
In an era of financial ruin and war at every turn, what better soundtrack is there than a series of symphonies spelling the end of days? No one did it better than this Montreal collective.
2. Neutral Milk Hotel
Jeff Magnum may never feel the need to play in front of a crowd again. If he ever wakes up one day with a desire to let hipsters everywhere die happy, he could gather the other Elephant 6 guys and play "In the Aeroplane Over the Sea" from front to back.
1. Talking Heads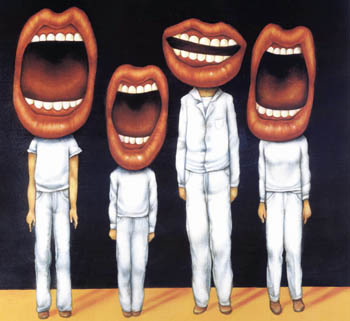 David Byrne doesn't need the rest of the Talking Heads, at least that's what he's shown in the past 10 or so years since they've disbanded. But the magic that Stop Making Sense shows when all four of them played together is undeniable, though the reunion may never happen.
Honorable Mentions:
Wham! Mr. Bungle Uncle Tupelo The Dead Kennedys Velvet Underground DFA 1979 The Postal Service Sleater-Kinney
---
---